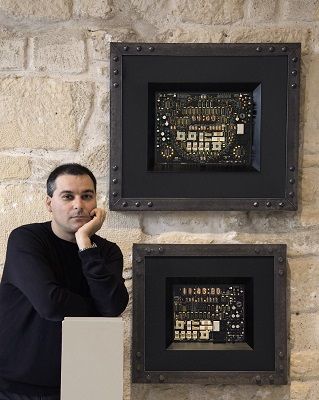 Frederic in front of the 'Laika' and 'Sputnik' artworks.


Passionate about electronics and horology, Frédéric invents and develops a new aesthetic concept in contemporary art, combining Art and Sciences, vintage and modernity, technologies of today and yesterday.

His artworks reinterpret the passing time. Second after second, progressive and random illuminations of orange light, animated digits and sparkling effects, create several visual rhythms marking the unique signature of his collections.



Since the very first drawing in 2002, Frédéric has been designing contemporary artworks with no compromise, as he had always dreamed them for himself.


Several inspiration sources give birth to his horological artworks collections: a mix of functional russian and US components from the 80's playing together, the very first iconic microprocessor which made the history, famous building shapes of the world, or the use of original riveted metal frames from the Eiffel Tower for an exclusive collection.


And one day, dreams became reality. In 2009, after 15 years serving the industry, Frédéric decided to fully devote himself to his Art, and proposed his artworks concepts and collections to the international contemporary art market.

In constant quest of the most emblematic, the rarest and the most collectable components and raw materials, Frédéric has set up his workshop 30 minutes far from Paris, France, where he constantly invents and realizes new creations.